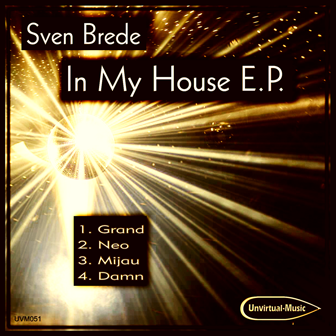 [imageeffect url="http://www.unvirtual-music.com/wordpress/_uvm-content/pics/releases/1440×1440/UVM051.jpg" type="shadowreflection" lightbox="yes" target="_self"][imageeffect image="2465″ type="blackwhite" width="222″ link="http://www.beatport.com/release/in-my-house-ep/1095757″ target="_blank"]
Sven Brede – In My House E.P.
Released 18 July 2014
In My House E.P. …the name sayes it all. Sven Brede presents four unique House tracks all with an extra touch of his special vibes and thrill. Grand is a piano hook from very beginning perfect arranged all based on this deep and magic piano loop. Neo follows up with an oldskool hypnotic piano attitude spiced up with some vocal samples. Mijau sounds like a cat in a maschine it is a bit deeper and perfect for warm up or transitions. Damn is the one you love or leave and a perfect roundup for this summer sound E.P.
Kolombo | Belgium
"Downloading, nice sounds"
---
Mike S. | Germany
"Titel 1 ist das, was ich unter Tribal-Groove verstehe. Titel 2 hat es verdient zwei mal rein zu hören. Die anderen 2 sind irgendwie unbedeutend."
---
DJ RIM-K | Belgium
" Grand works for me, Full support !!"
---
Karsten John | Germany
"Insgesamt nicht so 100%ig mein Ding aber "Grand" gefällt mir recht gut."
---
Fernando Campo | Spain
"thanks for the music, nice"
---
Miguel Antonio | USA
" Mijau and Damn are the strongest tracks on this release. Good energy, groove and arrangement make them fun and I will probably play them out in certain times. Neo starts off well, and sounds pretty good, but the arrangement makes it a little confusing and loses its energy. I would re-edit if I wanted to play that one out, just to keep its focus. Grand sounds a little flat, and not really carrying any life to it. I would re-work that one before release, or drop completely."
---
Livio Sandro | Germany
" Class EP. Especialy Grand & Neo. Will try Neo!"
---
Athan | Greece
" Great Pack!!"
---
Nino Hengst | Germany
" I will play Mijau & Damm, like the chords and the summer feeling inside, solid tracks i think so far… thanks will try & support Sven Brede "
---
DepGlobe | The Netherlands
"Grand is the best. Other tracks to old school for me."
---
Murderboy | Belgium
" ice housy sound, maybe a little vocal touch will lift it up "
---
Tali Freaks | Italy
"not feeling it…but give it a try, Mijau could rock it"
---
Johan (DI Radio) | Sweden
"Great work throughout, will support"
---
Tim Rial | UK
" Nice EP. Good production too "
---
Tom Leclercq | Belgium
"Nice ep, like the Neo"
---
Dany T | Italy
"nice ep , thx"
---
DJ SlanG | Latvia
"Damn is interesting oldschoolish work…Will try it."
---
Fernando Ferreyra | Argentinia
"Very Good "
---
Rigo | Honduras
"thank you great track \"D, diggin Mijau"
---
[divider_line type="divider_shadow_top" opacity="15″]